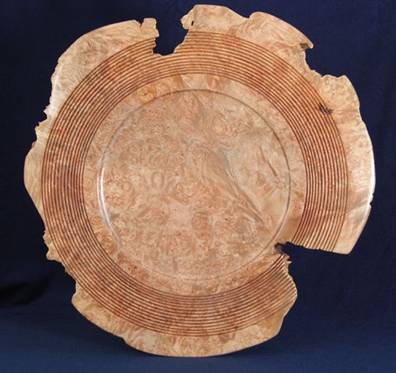 This site is designed around my interest in woodturning and in particular the teaching of woodturning. There are a number of project handouts and teaching recommendations that you can download. The calendar reflects my demonstration and teaching schedule. With the help of my turning friends, I hope to continually add new project instruction handouts developed by myself and my fellow turners.  
I and several other woodturnering instructors are  presenting "Virual Demos" for the Carolinacraftscenter twice a month , as well as club demos. check out the  carolinacraftscenter.com website.
Past president of the Woodturners Guild of North Carolina, Frank has been involved in woodworking throughout his life,since 1977 he has focused specifically on woodturning. His work integrates function and aesthetics with fine detailing and finishing to enhance the natural beauty of the wood. Frank's one-of-a-kind designs are exhibited in private collections and sold through museums and galleries.
Frank has been a demonstrator at numerous woodturning clubs, as well as regional and national  symposia. He has conducted workshops in a variety of settings including John C. Campbell Folk School, Arrowmont School of Arts and Crafts and the Appalachian Center for Crafts.
Frank's professional experience in education is reflected in his teaching ability and the high quality of his woodturning classes, demonstrations, and instructional materials.
His work has been has featured in American Woodturner magazine,and he is coauthor of the book Woodturning Tools, Techniques, and Projects.